NEWS
Amanda Knox Appeal: Not Guilty of the Murder of Meredith Kercher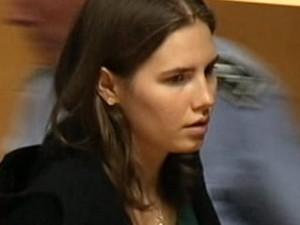 A verdict was finally reached in the appeals case of Amanda Knox, a 24-year-old American exchange student who, after being found guilty of murdering her British roommate Meredith Kercher in 2007, was acquitted of the murder charge Monday in an Italian court.
Being hailed the "trial of the century," Amanda was found not guilty in appeals court of the murder of Meredith Kercher and is free to return to the United States.
Article continues below advertisement
Amanda was sentenced to 26 years in prison in 2009 for the 2007 killing of Kercher, 21, her roommate in the small town of Perugia, Italy where they both were studying. Her former boyfriend Raffaele Sollecito was also convicted of murder and sentenced for 26 years.
Sollecito's murder charges were also overturned.
Earlier today, a very emotional Amanda addressed the appeals court, maintaining her innocence.