NEWS
Amanda Knox Movie Starring Hayden Panettiere Airs Tonight on Lifetime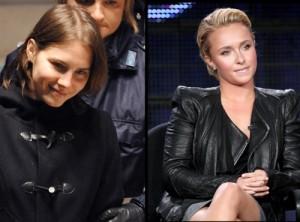 The highly controversial film Amanda Knox: Murder in Italy, based an American student who is in jail in Perugia, Italy, on charges that she murdered her roommate Meredith Kercher, airs tonight on Lifetime. In wake of the movie, Amanda's family, friends and lawyers have spoken out against her TV portrayal, by actress Hayden Panettiere, filing complaints against the network. Hayden, however, stands by the film and is prepared for the backlash.
Article continues below advertisement
"Amanda was amazingly shocked by it," Chris Mellas, Amanda's step father, told ABC News. "She said she literally started hyperventilating and said she felt like she was going to throw up. This thing with Lifetime is them doing nothing more then trying to make a buck. It's disgusting."
While Hayden understands the film is a sensitive subject, she also feels the movie accurately portrays the facts of the case.
"It's a very controversial topic and I don't think people are going to have a problem with it," she explained while promoting the film. "It's pretty fact driven and ends right when she gets convicted."
A media firestorm surround the film has launched, many against the sexual content, violence and portrayal of Knox.
Douglas Preston, author of The Monster of Florence, also said on the TODAY show this morning that the film is not accurate, filled with "erroneous and manipulated facts" presented at the first trial "which have now been thrown out by appeals court."
Article continues below advertisement
Amanda was sentenced to 26 years in prison last year for the 2007 killing of British student Meredith, 21, her roommate in the small town of Perugia, Italy where they both were studying. Her former boyfriend Raffaele Sollecito was also convicted of murder and sentenced for 26 years.
She appeared in court last month for the start of her appeal trial in Perugia's courthouse and new experts are currently reviewing key forensic evidence.
Amanda's lawyers filed a complaint Feb. 3, against Lifetime TV, YouTube and Google to pull trailers from the Web. Lifetime reedited them; however, the movie is still airing tonight.
Hayden visited the Rachael Ray Show and opened up about the film.
"Guilty or innocent, I think what they did to her was and is horrible. I mean you look at the girl and they just made such an example out of her in my opinion. ... Here we are innocent until proven guilty and over there you're guilty until proven innocent which, you know, can really throw you for a whirl," Hayden told the host, via USA Today.
Article continues below advertisement
So what would Hayden ask Amanda if she ever had the chance to meet her?
"Did you do it? No, no I wouldn't say that. I would be really, really tempted to, but no. You know, I'd be more curious about what'd she'd have to say to me because in the beginning I wanted to meet her and she didn't want to meet me, and understandably," she explained."And then, all of a sudden she came back and said she wanted to meet me, and it didn't work out with the shooting schedule and with the fact that she only has two days a week with her family and I didn't want to, you know, impede that."
"I genuinely, genuinely believe that this film and the way it's done, is done so tastefully and done in a manner that is so fact-driven," she said.
While promoting the film on Live with Regis and Kelly today, Hayden admitted, "I'm really torn. I genuinely have no idea" when asked about Amanda's innocence.
Catch the clips below surrounding the controversial film. Will you be tuning in?
Watch Amanda's family speak out on the movie.
Hayden speaks about the film.
Friends create ad, featuring Amanda's voice and proclaiming "Enough" and urges for Amanda's release.
Trailer for the Lifetime film.