NEWS
Amanda Seyfried Gushes About New Guy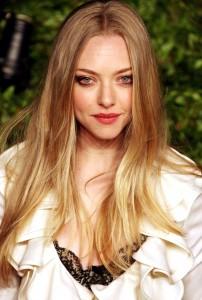 Amanda Seyfried lights up Tuesday when she giddily chats about rumored beau, SPiN co-owner Franck Raharinosy, during the Eric J. Trump Foundation Golf Invitational benefiting St. Jude's Children's Research Hospital held at Trump National Golf Club in Westchester, N.Y.
Just last week, the duo attended the U.S. Open together.
"It was so fun," the actress, 25, tells me. "The second time I went, last Monday, I saw Serena Williams, I saw awesome Russian doubles. I'm so sad it's over! Every year, I'm sad it's over, but especially when I'm in NYC and I'm going to it."
Article continues below advertisement
And they met over a ping-pong table – a sport she now feels passionately about.
"Susan Sarandon was in my last movie The Wedding, and I knew she owned a ping-pong club, so we all had the post-wrap party at SPiN," Amanda says. "I don't like going out to clubs, but I loved it. I think it's a good way to get active but also socialize and do what you're doing. You're going somewhere and you're enjoying yourself in an activity. It's huge - it's exciting. I love co-owner Jonathan Bricklin and Franck, my friend Franck German accent."
She adds, "I go all the time now. I'm just crazy about it. I'm leaving New York, sadly, but they're going to open up one in L.A., and it'll be the same thing."
Clearly, Franck won her over after her recent split with Ryan Phillippe.
"He's a really smart guy, who had this idea, and him and Susan and Jonathan and this guy Andrew came up with this amazing concept. Ping-pong's going to be really big – really major, and I think it will be. I love them all."
Article continues below advertisement
How would she define their relationship?
"Oh face lights up, then falls – I'm friends with him," she tells me. "He's a good, smart guy. And he's fun. He loves tennis, he loves ping-pong. They all do. They're all really into that sport. It's fun."
Despite her attraction to Franck, the one thing getting in their way could be her bond with her dog Finn.
What is she looking for in a guy dating-wise?
"Oh, nothing at all right now. My mind is on my dog. He's my best friend. I love him. I think of him and only him. I don't like to be out late because I just want to go home to my dog."
Still, she has a romantic side as evidenced by her favorite movie, Romeo and Juliet.
"It's dramatic," she says. "It's edgy. The music is perfect, and the relationship is so beautifully realistic that it propelled me into this whole world of acting and film."
One guy she admires is her In Time co-star Justin Timberlake, whom she got to know while filming 2006's Alpha Dogs.
"He's very charismatic and funny," she says. "He's a funny guy. He's awesome. It was awesome."