NEWS
Amanda Seyfried & Julianne Moore Beam Bright For 'Chloe'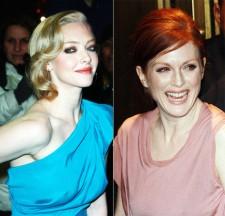 Amanda Seyfried and Julianne Moore beamed on the red carpet last night at the premiere of their new drama Chloe in NYC. Amanda looked beautiful in a short blue dress which matched her eyes, and dramatic makeup. Julianne looked stunningly sophisticated (as usual) and laughed for the flashing lights.
Amanda takes on a racy role in the new film directed by Atom Egoyen, with several nude scenes and one very intimate love scene with co-star Julianne.
Article continues below advertisement
"My dad's not allowed to see the movie," Amanda told Fox 411 while doing press for the film. "Being nude is not really much of an issue, I don't think for any of us really. It's easy just to take off your clothes but its really the intimacy that's... challenging."
Julianne said she doesn't think of her provocative role in Chloe as any different than other films she has starred in nor did she find it difficult.
"When you're in a story, you're in that story," Julianne told reporters at last night's premiere. "When you're done with it, you move on to the next one. I wouldn't say you have a preference necessarily. I just feel lucky when the parts are that good."
How did the veteran, A-list actress prepare for her role in the dark movie?
"My preparation is always the same with every movie," she said. "You look at the script, you think about the character, you talk with the director. No matter what it is, it all comes down to the script, no matter if it's light, if it's heavy, whatever. It's all about that."