NEWS
Amanda Seyfried Says She Was Jokingly Called Kristen Stewart on 'Red Riding Hood' Set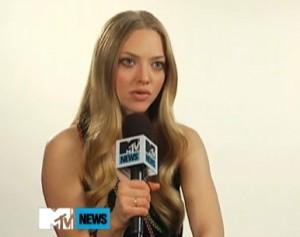 It's hard to deny the similarities between Twilight and the new film Red Riding Hood. But Amanda Seyfried insists they are quite different — even though Twilight/Red Riding Hood director Catherine Hardwicke may have called her Kristen Stewart on set!
OK! NEWS: AMANDA SEYFRIED GOT HER HEART BROKEN BY DOMINIC COOPER "PRETTY HARD"
Fans have been comparing Red Riding Hood to Twilight even before the film's release, but Amanda told MTV News they may be surprised.
Article continues below advertisement
"It's a bummer that that's what's happening," she said of the comparison, adding that she doesn't like it when "an audience has certain expectations."
But she can understand the comparisons since Catherine directed both films, and Twilight dad, Billy Burke, plays a father in Red Riding Hood, too!
OK! GALLERY: AMANDA SEYFRIED IS PERFECT IN PURPLE FOR RED RIDING HOOD
But Amanda and her co-stars Max Irons and Shiloh Fernandez (compared to Robert Pattinson and Taylor Lautner) had fun with the comparisons on set.
"We'd make jokes about Hardwicke calling us Kristen and Rob and Taylor," Amanda said.
And Shiloh was actually considered for Rob's Twilight role as Edward Cullen!
"Yeah, I mean it does surround a girl coming of age in a love triangle, but that's a lot of movies," Amanda admitted. "The truth is, it's an entirely different story.
"I think audiences are going to be really surprised when they end up seeing this movie because ... there's so many elements and there's so much going on," she added. "It's a murder mystery as well as a coming-of-age movie, and there's a lot of tension and it's scary. All those elements combine to be thrilling, I think."
Watch Amanda's interview below!