NEWS
'Love & Hip Hop Miami' Star Amara La Negra Reveals Her Thoughts On Young Hollywood's Controversy, Her Afro, And Much More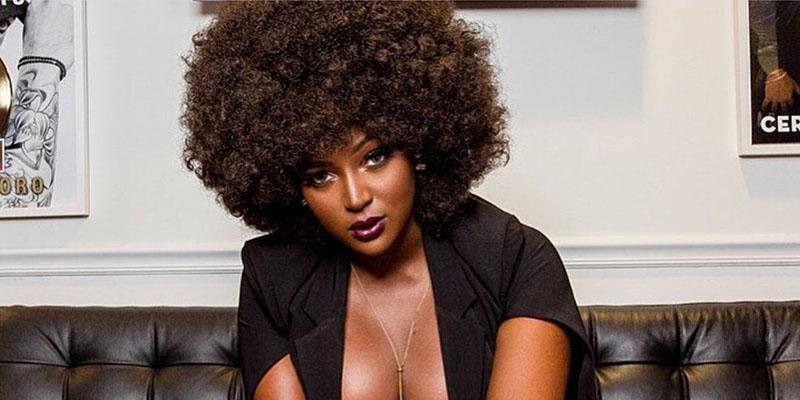 Singer Amara La Negra is the breakout star of hit series Love and Hip Hop Miami, and spoke exclusively with OK! about her musical talent, her unique style, and much more.
The beauty has made it no secret that she and her mother are very close, as the two have appeared on episodes together, and she spoke about her mother's opinion to her being on the show. "My mom thought it was a great opportunity just like I did," said Amara. "As a multi million dollar franchise seen by millions of people every Monday, she thought it would be a great opportunity for me to introduce myself to the American market, just to tell my story. Obviously to promote my music was super important to me, as well as to promote myself as an artist, but it kind of took a different route for which I'm blessed and happy it did, because it opened up the doors to a very important conversation," she continued.
Article continues below advertisement
That conversation revolves around beauty standards, which is a topic Amara La Negra says she has been subjected to for years. Even during the season, music producer Young Hollywood commented on Amara's afro, which she wears proudly. After the episodes aired with his comments towards her, in which he encouraged her to straighten her hair to look more "up to par" with other notable artists including Beyonce, he's received death threats from followers. But Amara is certainly not encouraging that.
Amara told OK! "He hasn't been the first to comment on my look. Unfortunately I believe there is this brainwash mentality in the entertainment industry, where you have to look a certain way in order to succeed. And I totally disagree. I believe I am beautiful. I believe every single person in this world is beautiful, because there is only one of them. There will never be another one of you and that should be embraced on its own. So why should I change or look like anyone else in order to succeed? You should love and embrace yourself," she said.
Article continues below advertisement
"It's not about my hair. I could go bald tomorrow and the issue will still remain, because this has been something that has happened for years, and unfortunately nobody ever really spoken about it ," Amara continued. "Afro-Latinas and I in general don't have a movement. We don't have a Martin Luther King Jr., or a Malcolm X, or a Black Lives Matter movement. We don't have people who are fighting for our place. And I'm sick of us feeling like we're ignored because nobody says anything. We just take it. And I don't think it should be like that."
As for her goal in speaking out about her self identity, Amara says, "This message is bigger than myself. It's for little girls that are looking up to me. And there isn't a country where there aren't black people. Whether you're British, Latino, etc, we need to stop this division of 'because you're lighter or darker, you're not good enough, or you're better,'"
Make sure to see Amara La Negra every Monday on Love & Hip Hop Miami on VHI at 9/8c!