NEWS
'Amazing Spider-Man' Villain Rhys Ifans "Detained" at Comic-Con After Shoving Female Security Guard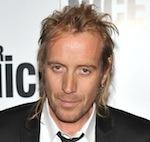 Actor Rhys Ifans got into a bit of trouble while making his way to the Amazing Spider-Man panel at Comic-Con in San Diego on Friday, as new reports reveal that the 44-year-old was "detained" for shoving a female security guard at the Convention Center when a friend of his had issues getting inside of the hall without credentials.
"Rhys Ifans was detained by Comic-Con security after a brief incident backstage prior to and immediately following the Amazing Spider-Man panel," a spokesperson for Sony explained in a statement via the Wrap of the incident.
Article continues below advertisement
OK! NEWS: COMIC-CON TWILIGHT FANS GREETED BY CAST WITH GENEROUS BREAKFAST
While the film company continues to explain that the actor "deeply regrets this incident," SDPD's Lieutenant Andra Brown paints a different picture of Rhys' attitude.
"He was abusive, belligerent, and aggressive, and shoved a female security guard aside to shove his way through," Lt. Brown told the Wrap and added that Rhys was, "verbally abusive to all around...security, the PD and the USA."
OK! NEWS: THE AMAZING SPIDER-MAN RELEASES OFFICIAL TEASER TRAILER
Luckily, the Wales native was able to attend his film's panel since, "He was cited and released, which is a non-custodial misdemeanor arrest," but Lt. Brown says that Rhys may still be liable to charges if pursued by the city.
The Amazing Spider-Man, also starring Emma Stone and Andrew Garfield, will hit theaters on July 3 of next year.