NEWS
Amber Portwood Has Custody of Leah; Gary Shirley Wants 'No Contact' Order Lifted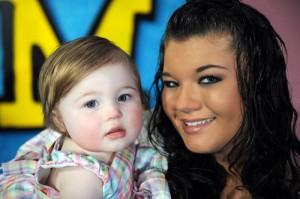 Now that Amber Portwood is a "free" woman she is back to caring for her two-year-old daughter Leah. The 20-year-old Teen Mom is fresh out of jail on bail, and a source tells OK! exclusively that Leah was brought over to Amber's home immediately following her release.
Now, a "no contact" order only remains between Amber and Leah's father, Gary Shirley.
Article continues below advertisement
"Amber's lawyers successfully negotiated a deal that allows Amber to not only see Leah, but to see her anytime she wants without a court-ordered monitor," a source close to the situation tells OK!.
As far as the temporary restraining order placed prohibiting Amber from contacting Gary, it looks like the 24-year-old dad isn't happy about it.
"Madison County prosecutors are pressuring Gary to cooperate with their case to convict Amber," our insider explains. "Gary is refusing, as he doesn't want to see Amber in jail. He actually wants her back in his arms."
Gary will have to wait until Amber's omnibus date on Feb. 28 to see if the "no contact" order will be lifted.
On that day, Amber and her lawyers must provide as much information and as many documents as possible to support her "not guilty" plea. From there, the judge will decide if she even needs to go to trial.
Leah will spend the next week with Amber, while Gary goes out of town with friends for New Year's.
"Amber does not need a monitor, but since she her license is still suspended , Amber will rely on Leah's two grandmas, Carol and Tonya, to do the pick ups and deliveries of Leah," the insider concludes.