NEWS
Amber Portwood Loses Custody Again; Gary Shirley Granted Primary Care of Baby Leah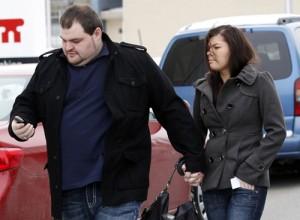 Looks like the custody battle between Amber Portwood and Gary Shirley is still raging on. The Teen Mom reportedly just lost primary custody of her daughter, Leah.
TMZ reports that Gary has been appointed primary custody of Leah "after an Indiana judge decided he was a more suitable parent."
The change of ruling, however, was not in regards to Amber's role as a mother.
Article continues below advertisement
So why did the judge change his mind?
According to court testimony today, via TMZ, Child Protective Services has decided it would be best for now if Gary has primary custody because of recent vandalism to Amber's house and car.
As a result of Amber's living conditions, both parents agreed it would be safer for Leah to live with her dad.
Amber will be awarded visitation rights as well.