NEWS
Amber Portwood Yells at Gary Shirley on 'Teen Mom': "Everything Is My Fault for Hitting You"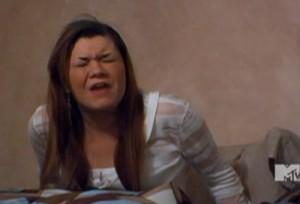 Amber Portwood is still having trouble controlling her temper. Amber and her on-again, off-again baby daddy, Gary Shirley, started to get into a heated argument over legal troubles on last night's episode of Teen Mom, leading Amber to lash out at him when he was insensitive to the fact that she may lose custody of their 2-year-old daughter, Leah.
"Nothing I did should ever provoke you enough to hit me," Gary reminded Amber of why she is in her current situation.
Article continues below advertisement
Then Amber lost it.
"Yeah, everything is my fault for hitting you. But the thing is, Gary, what provoked those situations?" she questioned, blaming him for loss of control.
Then the argument continued to escalate, and Amber stormed out of the room.
It's clear that the duo needs time apart.