NEWS
Amber Rose Tweets Off at 'Vibe' Magazine's "Untrue & Ridiculous" Story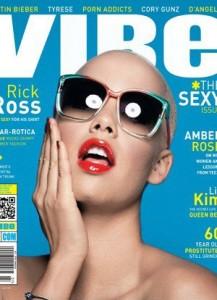 Article continues below advertisement
"F**k that Cover F**K @VibeMagazine yall wrote a bunch of negative bulls — that I never said or did," she continued. "Yall don't give a f**k that I have a Mom & Family that's gonna read that fake a** s**t I gave yall a truthful interview & Yall f****d me. I'm so sick of keeping my mouth shut I didn't ask for this life it was handed to me I was nothing but nice to everyone I spoke to @ Vibe."
OK! VIDEO: WATCH NATALIE NUNN LASH OUT AT WIZ KHALIFA & AMBER ROSE
So, what's Amber so mad about in the story?
Well, the magazine shares Amber's life since dating Kanye West and Reggie Bush, MTV's RapFix reports. The model is currently dating rapper Wiz Khalifa.
"People think me and Kanye are enemies, and we are not enemies. He wants the best for me, still," Amber said in the magazine. "Let me say this: I still love Kanye. I will always love him as a person. I will always love him for what he's done for me. I still always have that soft spot in my heart for him. I am not in love with him. I do not look at him in a sexual way anymore. I'm in love with someone else. I still love him as a person and want him to find happiness like I did. Everyone deserves that."
The Twitter rant has caused some suspicion that it may have been done to try and help boost sales, PopEater reports.
What do you think?