NEWS
American Idol Addresses Voting Issues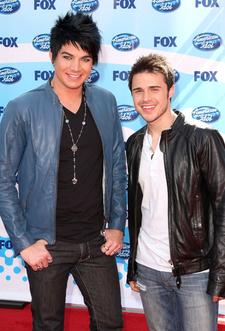 Despite accusations that there were voting irregularities during the American Idol finale where Kris Allen triumphed over the judges' favorite Adam Lambert, Fox, producers of the show and AT&T say that everything was on the up-and-up.
As The New York Times reported, AT&T, an AI sponsor, provided fans at a few viewing parties in Arkansas with text-messaging tips on how to send out 10 messages at the touch of a button to vote for Kris.
Article continues below advertisement
Some critics said this technique could violate the show's rules against "technical enhancements" to bump voting. Kris is said to have won by a wide majority out of the 100 million votes cast.
Fox and American Idol producers 19 Entertainment and FremantleMedia released a statement today saying Kris is indeed the winner:
"Fox and the producers of American Idol are absolutely certain that the results of this competition are fair, accurate and verified. Kris Allen is, without a doubt, the American Idol. We have an independent third-party monitoring procedure in place to ensure the integrity of the voting process. In no way did any individuals unfairly influence the outcome of the competition."
AT&T released this statement:
"Last week, countless parties were held in homes, bars, and other public places across America to watch the American Idol finale. In Arkansas, a few local AT&T employees were invited to attend two local watch parties organized by the community. Caught up in the enthusiasm of rooting for their hometown contestant, they brought a small number of demo phones with them and provided texting tutorials to those who were interested. Going forward, we will make sure our employees understand our sponsorship celebrates the competition, not individual contestants. That said, it's quite a leap to suggest that a few individuals could have impacted the final results."