NEWS
'American Idol' Alum James Durbin's Gift to Conan O'Brien: A Conan the Barbarian Cartoon!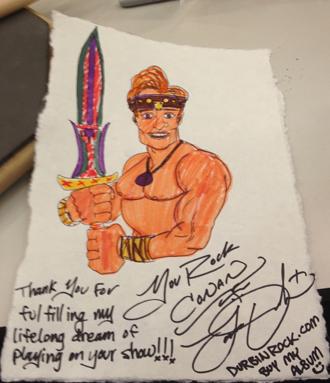 James Durbin had a life-long dream come true last night when he performed on the Conan O'Brien show. A day he had always been waiting for.
"That's the one show I wanted to perform on. I got to play with the house band on Leno. I got to sing with Randy Jackson and Jimmy Fallon. I got to perform a cover song on Ellen. But Conan was it," revealed the singer.
"I feel like I've made it if I performed on Conan. They have the bands that I haven't heard of before. Bands that bring something new. I was honored to be on there. It was so cool."
Article continues below advertisement
What do you think of the drawing? Do you think Conan liked it?