NEWS
American Idol Auditions Begin This Week!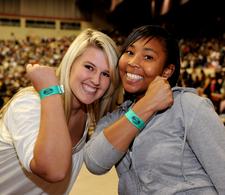 Start warming up those vocal chords, singers: the American Idol auditions are back and they want you!
So if you want to be the next Kris Allen or Adam Lambert, heck, even the next Carrie Underwood, practice your game faces, hone your scales and don't choose the wrong song!
The ninth season will get underway with seven destinations. Contestants must be between 16 and 28 as of June 12 and able to work in the U.S.
Article continues below advertisement
Check below to see if you can make it!
CITY
VENUE
Registration

Day 1

Registration

Day 2

Audition

Date

Boston
Gillette Stadium
6/12/09
6/13/09
6/14/09
Atlanta
Georgia Dome
6/16/09
6/17/09
6/18/09
Chicago
United Center
6/20/09
6/21/09
6/22/09
Dallas
Cowboys Stadium
6/24/09
6/25/09
6/26/09
Los Angeles
Rose Bowl
6/28/09
6/29/09
6/30/09
Orlando
Amway Arena
7/07/09
7/08/09
7/09/09
Denver
INVESCO Field at Mile High
7/12/09
7/13/09
7/14/09