NEWS
'American Idol' Blog: Shocking Top 9 Results Show!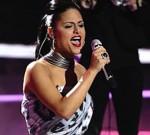 Ryan Seacrest opened the show with: "Could be a very shocking results show tonight." Hmmm, what does that mean?
OK! NEWS: NIKKI REED DATING PAUL MCDONALD — AMERICAN IDOL HUNK GETS ENDORSEMENT FROM TWILIGHT
Kicked off the show with a group of "I love Rock and Roll," "My Baby Sent Me a Letter" and "Sweet Home Alabama." Gotta love the cheesy group numbers. Casey, Stefano, Lauren are the first ones to get their results. Stefano in the bottom 3 as expected.
Article continues below advertisement
Season 4 contestant and Rock of Ages star Constantine Maroulis back on the show to sing! A very ricocheted up and rock version of "Unchained Melody." It was just okay. Time for Pia, Paul and Scotty! Will they all be safe? Or a shocking bottom 3 spot? WHAT? Pia is in the bottom 3?! That is shocking. She has awesome pipes.
OK! NEWS: WILL JACOB LUSK'S COCKINESS HURT HIM ON AMERICAN IDOL?
Funny segment when the kids visited TMZ. I guess the paps is something they are going to have to get used to. Then James, Haley and Jacob are at center stage. The bottom 3's last member has to be Jacob. Yup. Jacob is in the bottom 3! But before the results we were treated to a crazy, shirtless performance by Iggy Pop! WOW! This is kind of crazy. Do teens watching even know who he is?
And now time for the results: Will Stefano, Jacob or Pia go home? I say Jacob. WHAT!??? Pia is going home! WHAT!? I am so in utter shock. She has an incredible voice. Wow. I can't believe it. Pia did not expect it as she is bawling as the credits roll. This is what I call the "Daughtry effect." Chris Daughtry was voted off too early in season 6 because everyone thought he was safe. You have to vote!
Ryan was right. This was a VERY shocking results show. Wow. Can a girl ever win this show again? Every single week a girl has been voted off. We are now down to only 2 girls and 6 guys! This is crazy. Who knows what will happen next?
Well, we now have our Top 8. More Idol next Wednesday at 8 p.m.
Written by Rana Meyer