NEWS
'American Idol' Blog: The Top 11 Results...Again!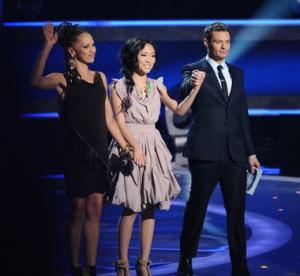 Over 55 million votes. Biggest amount at this stage of competition in 10 seasons. Will it be a shocker tonight?
OK! VIDEO: WATCH CASEY ABRAMS SING ELTON JOHN'S "YOUR SONG" ON AMERICAN IDOL
No group numbers! Duet from Lauren and Scotty kicks off the show singing "I Told You So." This is different. Nice country vibe on stools. Right to the results with Lauren and Scotty. I am sure they are both safe. No surprise, they are both safe.
Article continues below advertisement
Time for Haley, Thia and Pia to sing "Teenage Dream." That is really fun to watch, but a little all over the place. I honestly preferred the Darren Criss version on Glee. But Pia and Haley are safe! Thia joins Naima in the bottom 3. Oh hey, Season 8 winner Kris Allen and his wife, Katy, are in the audience. I wonder what advice he had to offer the contestants?
Now, time for the boys. Wow, Paul, Stefano, Casey and James have put together their own band, their debut performance with "Band on the Run." This is actually kind of cheesy but the guys are having a great time. Casey is safe, and then James is safe. So it is down to Paul and Stefano? I thought it would be Stefano but no, it's Paul! Wow! His first trip to the bottom 3.
Article continues below advertisement
OK! VIDEO: WATCH STEVEN TYLER JOKE ABOUT LAUREN ALAINA'S "HALF DRESS" ON AMERICAN IDOL
Before we get the results, a performance from Jamie Foxx and Will.i.am. of "Hot Wings" from the movie Rio. Wow, that wasn't very good. But, now back to the results and Paul is safe! Sadly, Thia and Naima have to say goodbye. And we finally have our Top 9.
What will the Idols sing next week for Rock and Roll Hall of Fame week? Find out next Wednesday at 8 p.m.!