NEWS
'American Idol' Blog: Top 12 Results Show!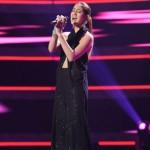 The time has come once again for someone on American Idol to say goodbye. Who will be lucky enough to make it into the top 11? Only one more week until we know the Top 10 and who will make it onto the American Idol tour.
OK! VIDEO: WATCH PAUL MCDONALD STRUGGLE ON IDOL STAGE. SHOULD HE TONE DOWN THE QUIRKINESS?
First Ryan Seacrest pulled Jacob, Casey and Lauren down to the center of the stage. At first I thought Jacob could be in trouble, he is amazing but needs to change it up. But no, all three are safely in the Top 11.
Article continues below advertisement
Then it was Haley and Paul's turn. Neither one was horrible but they also didn't blow it out of the park. And Haley was one of the two to be placed in the bottom 3. Her second week in a row in that spot.
OK! VIDEO: WATCH HALEY REINHART'S LIPSTICK MALFUNCTION ON AMERICAN IDOL
Then came James, Pia and Scott at center stage. No surprise here, they are all safe. I see all three of them going pretty far in the competition. Nalma and Stefano were up next and Stefano is definitely safe as he knocked it out of the park last night. Sadly, Naima was the next one sent to the bottom 3. She was quite pitchy and went first, so no shocker there.
Thia and Karen were the last two to get their results. They both weren't fabulous so it could be going either way. But apparently Thia's fanbase is much bigger as Karen joined Haley and Naima in the bottom 3.
Amongst all the suspense, we were treated to performances by both Lee DeWyze with "Beautiful Like You" and the Black Eyed Peas' "Just Can't Get Enough." It was great to see lee back on the Idol stage, but really Black Eyed Peas. Can they be anymore auto-tuned? Boy does Idol know how to fill an hour.
Article continues below advertisement
OK! VIDEO: WATCH STEFANO LANGONE'S BEST PERFORMANCE OF THE NIGHT ON AMERICAN IDOL
But finally we had our bottom 3 and Karen was revealed to be the one sent packing. She of course sang for the judge's save with Mariah Carey's "Hero," but I never expected them to save her. Karen tried her best to convince them but it was not to be. Karen was going home and she tearfully said goodbye as her journey played with the background music of David Cook's "Don't You Forget About Me."
What will next week's theme be for the Top 11? Find out next Wednesday at 8 p.m. on Fox!
Written by Rana Meyer