NEWS
'American Idol' Blog: Top 5 Results Show!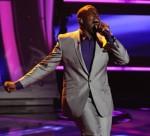 A massive amount of votes came in, totally 60 million. That is the highest of the season! Ryan did not say shocking, but I bet it's Jacob. But first here's the top 5 with a cheesy group number of "Happy Together." Idol loves to drag it out. And they continue just that with performance by hot country group Lady Antebellum and then of course one from Miss J.Lo. But please Idol, stop trying to make us believe that the Jennifer Lopez performance was filmed live. It was obviously pre-taped.
Article continues below advertisement
As for the results, they are split into groups. Jacob on one side, Lauren on the other side. They are freaking out. Now Jacob joins Lauren. They are probably the bottom group. Haley joins James on the other side of the stage. James looks like he is about have a heart attack. Where will Scotty end up? Neither one. Scotty is safe! And Haley and James join him in the safe group! So we have our bottom 2: Jacob and Lauren. But Lauren has never been in the bottom before and she is freaking out and tears are streaming down her face. However, I don't think she has anything to worry about.
Lauren does not need to worry as it is announced that she is safe and Jacob is going home, as expected. It's been a good run Jacob, but it was your time. And folks, we finally have our Final Four! Amazingly, after so many girls leaving at the start of the season, our final four is made up of two guys and two girls: James, Scotty, Lauren and Haley! It is anybody's game!
Watch the final four sing their hearts out next Wednesday at 8 p.m.!