NEWS
'American Idol' Contestants Dish About Haunted House!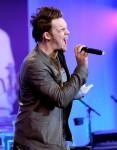 As things heat up on American Idol when two contestants get eliminated tonight, there's a spooky story taking place off-stage. Contestants told OK! about the haunted house which is freaking them out!
OK! NEWS: AMERICAN IDOL BLOG — THE TOP 11 PERFORM, AGAIN!
What is the deal, is their house really haunted? Apparently, the answer is a resounding yes. "I saw a hand in the garage! I have witnesses!" James Durbin told OK! "I opened the door to the garage - I was trying to freak out Pia Toscano - and it freaked me out because I something white that looked like an arm that kind of came down."
Article continues below advertisement
OK! NEWS: JENNIFER LOPEZ ON SAVING CASEY ABRAMS ON AMERICAN IDOL — "WE HAD TO DO IT"
From their stories, it sounds like the last thing they should be doing is watching a horror movie in the mansion! Lauren Alaina notes, "We were watching a scary movie before that and we were all freaked out and me and Pia decided to sleep downstairs and James was making fun of us, opens the garage door and supposedly sees a hand falling down from the ceiling!"
The hand wasn't the only thing freaking out the Idol crew. Scotty McCreery chimes in, "Stefano's Langone face was priceless when the sheets were blowing everywhere." Naima Adedapo adds, "Even though I'm a very logical person it was a little disturbing for it to be 2:30 in the morning and having the door blow open with leaves flying in. Then I put a huge chair in front of it and it still blew open!"
Article continues below advertisement
OK! NEWS: AMERICAN IDOL BLOG — THE TOP 11; THE MOST SHOCKING RESULTS SHOW EVER!
So, what do you do now when there's a falling hand and sheets and leaves blowing everywhere? "We left the house," admits Stefano. Although James notes they "loved the house," Stefano indicates it was "just kind of falling apart." Plus, Naima adds, "It wasn't up to par." Consider the contestants currently in transition as they're crashing at a hotel. "We relocated, it's a temporary thing," says Stefano. "We're at some hotel now and we're going somewhere else."
Reporting by Gena Oppenheim