NEWS
American Idol: Happy to Go Home!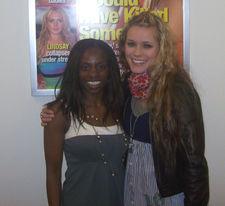 Ousted American Idol eliminated contestants Megan Joy and Michael Sarver have the same reason they couldn't wait to get home after their respective eliminations. They both wanted to see their kids!?
"I don't want to be away from them that long, never again," Michael said of his four-year-old daughter and two-year-old son, though his little girl has been keeping up with him via the family DVR.
"She knows it's American Idol, that it's TV and she thinks it's cool. She likes to see Daddy on TV," Michael shared when he stopped by the OK! office.
Article continues below advertisement
Megan, who was anxious to once again hold 2 1/2-year-old son Ryder, says he's still too young to understand what has been happening on screen.
"It will be fun to go back later in life and show him what happened," she said when she stopped by.
Both parents will pull a Britney Spears and have their children with them at least on part of the Idol summer tour.
"They won't be on the bus, but I'll have them meet me periodically throughout the tour," Michael explained.
For Ryder, hitting the road means meeting his future wife: fellow Idol contestant Alexis Grace's two-year-old daughter Ryan!?
"Ryan and Ryder will be married," Megan declared. "It's so cute."
Maybe Lil Rounds' kids will sing at the ceremony!
Catch American Idol, movie theme week with guest mentor Quentin Tarantino, Tuesday, April 14 at 8 p.m. on Fox.