NEWS
'American Idol' Ratings Looking Good Without Paula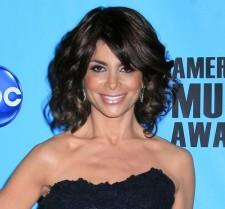 Everyone is still singing its praises! American Idol kicked off its ninth season to a large audience of approximately 30 million viewers. Despite Paula Abdul's absence and Simon Cowell's upcoming departure, the show still has its loyal viewers!
The Associated Press reports that numbers reached 29.9 million viewers for Tuesday's show, which is about 2 percent lower than last year's season debut, according to initial Nielson Co. figures released Wednesday.
Article continues below advertisement
Actually, the 2009 debut episode dropped 10 percent compared to 2008.
These ratings could suggest that cast changes to the show have been a good way to keep viewers from getting bored as the show reaches its ninth season.
But, the real test will be next year when Simon leaves to launch The X Factor.
The highest point for opening nights was in 2007 with 37.4 million viewers.
"I think people love to love the show," Fox's executive in charge of alternative programming, Mike Darnell, said. "It's one of the few phenomena that exist: the Super Bowl, the Oscars, American Idol. It's an American tradition.'
"What we've proved now, again, not that we need to prove anything, is this show is about the public's relationship with the fundamental things in life," said Simon Fuller, the show's creator.
He also added that fans accept changing saying, who would have thought the James Bond movies would have become such an amazing franchise "with so many Bonds."
"That's not my worry....We're the biggest talent show on earth, responding to whether The X Factor will affect the American Idol audience. "All I'm really worried about is Idol, and we're strong," he said, adding, "America has such an incredible talent pool."
American Idol has been the top-rated show for five years among all viewers and continues to run from January to May.
The X Factor with Simon as a judge and executive producer will air in the fall of 2011.