NEWS
American Idol Recap March 4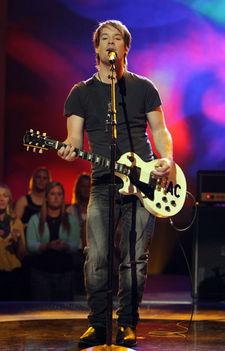 OK!'s Elizabeth Herr breaks down American Idol!
American Idol: "Apart from the suckfest that is Luke Menard, this has got to be the most talented group of guys Idol has ever had. And yet, they allowed Luke to open the show — maybe throwing him a bone before he's inevitably put out of our misery on Thursday? Oh, and how mightily he sleepwalked his way through '80s classic "Wake Me Up Before You Go Go." This is three songs in a row now that Luke has murdered in cold blood. You know what would be great? If George Michael were waiting in the wings to punch him in the face.
Article continues below advertisement
David Archuleta, at the piano, starts a little rough on "Another Day in Paradise" but picks up momentum fast. I like how he does his own thing with the melody and doesn't go where you'd expect. Simon wants him to lighten up, but that's so an invitation for him to go over to the cheese side with some annoying poppy song. Don't do it, David!
My Danny Noriega love is well documented, and I'm not ashamed to admit that I squealed like a little girl when I heard he was singing "Tainted Love." Final verdict: The arrangement was crazy and weird and sort of effed up, but it worked (for me, anyway). Paula rambled for a million years, but I think somewhere in there she said he's awesome. I need Danny to be in the top 12, but I fear he's more vulnerable than any of the other guys (except Luke, of course). Sigh.
Hey, did you hear? David Hernandez has a little something in common with Oscar winner Diablo Cody! He's still out-singing just about everyone on this show, but as good as he is, he couldn't make me enjoy "It's All Coming Back to Me Now." Can they please put a moratorium on any songs previously performed by Celine Dion? (And Whitney Houston? And Mariah Carey?) Simon likes David doing soul better (agreed), but there's no doubt he's in the final 12.
Article continues below advertisement
Michael Johns finally brought something to the table tonight with "Don't You (Forget About Me)." Good song choice, and he didn't make me long for the original. The judges keep comparing him to Michael Hutchence, though, which, just… no.
And now here's where I have to take a moment to cool down, because just thinking about David Cook makes me all flushed. Who knew "Hello" — Lionel Richie's "Hello"! — could be sexy? Swoon. This weekend I will be sculpting David's head out of clay.
I'm fairly sure the legendary Leonard Cohen hasn't ever gotten any play on Idol, so I was excited to hear Jason Castro do "Hallelujah." I was lucky enough to see Jeff Buckley perform it live many years ago, and for me, no version of this song can even come close to his. But, if I may be Randy, Jason did his thing, he worked it out. And it was worth it to have the judges name-check the late, great JB — twice!
Chikezie continued the comeback tour he kicked off last week. I was sort of hoping he'd tank so we'd have another clear candidate for elimination, but his vocals were great. Kind of a boring song, but he can sing, and I don't think I want him to go just yet. But if it comes down to a choice between him and Danny, you know where I stand." — Elizabeth