NEWS
American Idolatry: All About Adam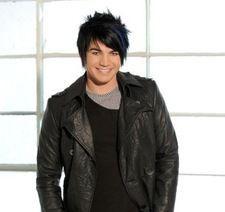 With an explosive vocal performance that shone during an otherwise lackluster night, Adam Lambert truly owned Tuesday's American Idol.
The theme for this week was American Top 40 and Adam once again put his special spin on the 1976 Wild Cherry hit "Play That Funky Music," thrilling both the judges and the crowd.
Unfortunately for everyone, they had to endure eight less-than-impressive performances from the other finalists.
Article continues below advertisement
In fact, all four judges — Simon Cowell, Paula Abdul, Kara DioGuardi and Randy Jackson — seemed preoccupied while the contestants bludgeoned song after song.
Aside from Adam, there were a pair of contestants who managed not to embarrass themselves on Tuesday night. Danny Gokey did an admirable job with Rascal Flatts' "What Hurts the Most," and Kris Allen's piano-fied rendition of "Ain't No Sunshine" proved he may just be this season's sleeper.
But for the majority of the night, the Idol finalists just didn't seem to be at the top of their game. Contestant after contestant heard the same criticism from the judges' table — bad song choice.
In fact, the audience members began to grow tired of the jaded judges' sour remarks. After Megan Joy — whose performance of "Turn the Lights Down Low" was likened to "watching paint dry" by Randy — was dressed down by the judges, a heckler in the audience belted out, "broken record!", and managed to elicit a chuckle from Simon. And when Kara continued on in her dissection of Megan's faults, the crowd erupted into boos. Clearly frusrated, the newest AI judge snapped at the rabble-rousers, "Alright! You get up here and do it, then!"
Article continues below advertisement
Even when the cameras were off, it was clear from the audience that the judges were not in the best of moods. "They seemed really bored," one audience member told OK! during the taping. "All four of them were gazing off into the audience during performances, sitting stiffly in their chairs.
Matt Giraud tried to change things up by performing The Fray's "You Found Me" from the audience, but there was no escaping from the judges' wrath. "It felt very put on," said Simon, adding, "It was uncomfortable." Even normally sympathetic Paula has to say, "It was another sound-a-like song."
In spite of the lethargic judges, the celebrity-filled crowd — David Spade, Neil Patrick Harris, Lisa Rinna and Harry Hamlin, Carnie Wilson, Miley Cyrus' underwear model squeeze Justin Gaston, and Simpson family dadager, Joe Simpson (possibly looking for his next client?) were all there — remained energetic throughout and really enjoyed themselves.
So after all of Tuesday's harsh criticisms, who will fans will send home on Wednesday night's results show!