NEWS
American Idolatry: The Final Face-Off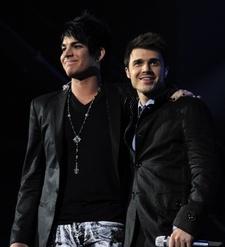 Crowds filled L.A. Live's Nokia Theater on Tuesday for the final night of competition on Season 8 of American Idol, and oh, what a show it was!
This season's final two, Adam Lambert and Kris Allen, couldn't be more different when it comes to everything from their fashion sense to their taste in music, making this season finale one of the most anticipated and hotly debated in Idol history.??
Along with previous Idol competitors David Archuleta and Carly Smithson in the audience, there was a higher than usual celebrity turnout, including Katie Holmes and her adorable daughter Suri Cruise, who kept her mom's hands tightly over her ears during the show. Also on hand were Oscar-winner Anthony Hopkins and his wife.
Article continues below advertisement
And if ever there was doubt about the close-knit Idol clan this season, tonight put it all to rest as eliminated contestants Danny Gokey, Alison Iraheta, Matt Giraud, Scott MacIntyre, Megan Joy, and the rest of the 13 finalists returned to lend their support.??
The allegiances of the crowd were equally split between the two remaining singers, with yellow "Kris" signs peppered throughout the screaming Adam fans in the audience.
As for the singing, the finalists were each tasked with performing three songs — their personal favorite song from the season; show creator Simon Fuller's choice of song; and an original single co-written by new judge Kara DioGuardi.
??Both finalists bolted out of the starting gate strong. Adam performed a haunting version of "Mad World," complete with dry-ice fog and a long black trench coat, all of which Simon Cowell called "a little too Phantom of the Opera for me." ??Kris chose "Ain't No Sunshine," which he performed at the piano and impressed Simon so much that he agreed, "Kris, you've won round one."
Article continues below advertisement
??But soon began to look like Adam's night with his second song of the night, Sam Cooke's "A Change is Gonna Come." ??Following the performance, Simon told him, "you're 100 percent back in the game," and Paula said, "you're going to be iconic someday, you're the best I've ever heard."??
Hard words to follow for Kris, who gave an — according to Simon — "too laid back" version of Marvin Gaye's "What's Going On?"
??Both competitors had a go at the third song, "No Boundaries," though its slick, radio-ready tune didn't seem to fit either Adam's theatrics or Kris's smoldering intensity.
At the end of the evening, the audience was treated to a live performance from Carrie Underwood, who sang her version of Motley Crue's "Home Sweet Home" as a video montage played showing all the Idol finalists from this season on their journey to be in the final two.