NEWS
American Idolatry: The Judges Throw Out the Lifeline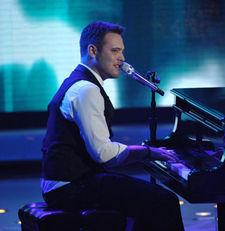 If you could bottle the happiness and excitement that erupted around American Idol finalist Matt Giraud on Wednesday night — well, you'd probably have one heck of a marketable product on your hands. The Michigan native was the first finalist in the history of the hit show to be pulled from the jaws of elimination by the "judges' save."
After his less-than-impressive showing on Tuesday's movie-themed performance night, Matt found himself in the bottom two with fellow finalist Lil Rounds. And despite boos and long faces from the crowd and his fans, Matt was given the bad news from Ryan Seacrest that he was the one chosen for elimination by the audience.
Article continues below advertisement
In keeping with this season's new rules, Matt was given one last chance to influence the judges by re-performing this week's tune. And it became apparent during Matt's song that this was different than in previous weeks.
"You could cut the tension in the audience with a knife," one audience member tells OK!. "The crowd was literally on its feet as it waited for Simon to make the final decision."
And when Simon Cowell finally spoke, it didn't bode well for Matt. "I don't think you have what it takes to win this competition," he began, as a chorus of boos rose from the crowd. "But, there is good news..."
With those words, the other Idol finalists rushed the stage, enveloping a shocked Matt in a huge group bear hug as the audience and other three judges erupted in cheers.
This marked the first time in all seasons of American Idol that that judges have ever been able to correct what they saw as a mistake on the part of the viewing public. Of course, the down side of the judges' decision to take advantage of this new privilege is that it can only be used once. So next week, two people will have to go home.
Article continues below advertisement
Perhaps it was the presence of former contestant Jennifer Hudson, who was infamously voted off before her time on Idol — and who has since gone on to be one of the show's most successful grads — that got the judges in a forgiving mood. Box office queen Miley Cyrus also performed for the crowd.
Also in the audience was heartthrob Zac Efron, on hand to promoting his latest film 17 Again, and Olympic skater Michelle Kwan, who stopped in to see the show.
PICS FROM TUESDAY'S SHOW: