NEWS
American Idolatry: No Joy for Megan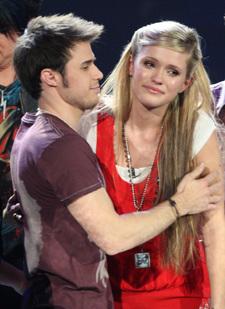 If you believe <a href="https://okmagazine.com/search/seacrest" target="_blank"><strong>Ryan Seacrest</strong></a>, more than 36 million people voted after Tuesday night's American Idol broadcast, and they all agreed on one thing: Megan Joy had to go.
Even the 22-year-old mom from Sandy, Utah, appeared to know it was her time to say goodbye. The tattooed songbird hammed it up for the cameras as Ryan recalled her dud performance of Bob Marley's "Turn Your Lights Down Low," and then waved ecstatically as Simon Cowell singled her out as the one finalist who deserved to be voted off.??
Article continues below advertisement
"Simon, I love you but I don't care" she snapped, after being told she was in the bottom three. And those sour grapes came back to haunt her later in the evening when Ryan gave Megan the bad news that she was the lowest vote-getter for the week. For the first time in the finals, the judges didn't even confer when asked whether they'd consider using their "Judge's Save" on Megan. "With all due respect," said Simon, "you don't care — nor do we."
Ouch! ?
PHOTOS FROM THIS WEEK'S IDOL:
<a href="http://www.okmagazine.com/pixandvids/gallery/13051/1" target="_blank"><img src="https://d-images.okmagazine.com/img/photos/large/24822.gif" width="74" height="100"/></a> <a href="http://www.okmagazine.com/pixandvids/gallery/13051/2" target="_blank"><img src="https://d-images.okmagazine.com/img/photos/large/24821.gif" width="74" height="100"/></a> <a href="http://www.okmagazine.com/pixandvids/gallery/13051/3" target="_blank"><img src="https://d-images.okmagazine.com/img/photos/large/24820.gif" width="74" height="100"/></a> <a href="http://www.okmagazine.com/pixandvids/gallery/13051/4" target="_blank"><img src="https://d-images.okmagazine.com/img/photos/large/24819.gif" width="74" height="100"/></a> <a href="http://www.okmagazine.com/pixandvids/gallery/13051/5" target="_blank"><img src="https://d-images.okmagazine.com/img/photos/large/24818.gif" width="74" height="100"/></a>
Article continues below advertisement
<a href="http://www.okmagazine.com/pixandvids/gallery/13051/6" target="_blank"><img src="https://d-images.okmagazine.com/img/photos/large/24817.gif" width="74" height="100"/></a> <a href="http://www.okmagazine.com/pixandvids/gallery/13051/7" target="_blank"><img src="https://d-images.okmagazine.com/img/photos/large/24816.gif" width="74" height="100"/></a> <a href="http://www.okmagazine.com/pixandvids/gallery/13051/8" target="_blank"><img src="https://d-images.okmagazine.com/img/photos/large/24815.gif" width="74" height="100"/></a> <a href="http://www.okmagazine.com/pixandvids/gallery/13051/9" target="_blank"><img src="https://d-images.okmagazine.com/img/photos/large/24814.gif" width="74" height="100"/></a> <a href="http://www.okmagazine.com/pixandvids/gallery/13051/10" target="_blank"><img src="https://d-images.okmagazine.com/img/photos/large/24813.gif" width="74" height="100"/></a>
<a href="http://www.okmagazine.com/pixandvids/gallery/13051/11" target="_blank"><img src="https://d-images.okmagazine.com/img/photos/large/24812.gif" width="74" height="100"/></a> <a href="http://www.okmagazine.com/pixandvids/gallery/13051/12" target="_blank"><img src="https://d-images.okmagazine.com/img/photos/large/24811.gif" width="74" height="100"/></a> <a href="http://www.okmagazine.com/pixandvids/gallery/13051/13" target="_blank"><img src="https://d-images.okmagazine.com/img/photos/large/24810.gif" width="74" height="100"/></a>
Article continues below advertisement
Reigning Idol champ David Cook returned to the AI stage with a brilliant performance of his new single "Come Back to Me." After bringing the crowd to its feet, Ryan and a pair of lovely young ladies presented David with a framed plaque to commemorate the platinum status of his debut album. The star, who has been busy on tour, recently had to cancel shows in New London, NH, and New Haven, Conn., due to "personal family matters."