NEWS
'American Idol's Down To Four Girls! Relive the Best Female 'AI' Performances Ever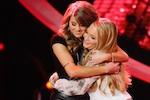 Article continues below advertisement
Watch: Nicki Minaj is Working on Album Number Three!
Jennifer Hudson, "I Have Nothing"—Before the Grammys and all her other shiny awards, Jennifer was still plugging away at the top 8 in American Idol. She delivered a winning performance of Whitney's "I Have Nothing" that left us speechless.
Watch: See the Celeb Who Will Marry Kelly Clarkson!
Jessica Sanchez, "I Will Always Love You"— After we saw fellow AI alum Jennifer Hudson's killer interpretations of the late Whitney Houston's classics, we didn't think it was possible to get better. We were wrong. Jessica Sanchez brought actual tears to America's eyes with her mind-blowing performance of the Whitney favorite, "I Will Always Love You" last season. It gives us chills just talking about it. If you haven't already, you want to see this performance.