NEWS
Ames Brown Dumped Jackie Gordon Post Romantic 'Bachelor Pad' Exit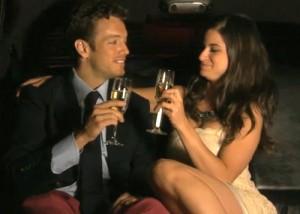 Ames Brown made America swoon when he chose love over money on season 2 of the Bachelor Pad, walking away from the competition to pursue his relationship with Jackie Gordon. But off-camera, the couple has already split!
Despite Ames' grand gesture of turning down a chance at $250,000 to be with Jackie, the 31-year-old bachelor (from Ashley Hebert's season of The Bachlorette) told reporters during a conference call today that they couldn't make their relationship work.
Article continues below advertisement
OK! NEWS: AMES BROWN SAYS HE "WON" SEASON 2 OF BACHELOR PAD... WITH JACKIE GORDON!
"We had a great time on the show and chose love over money in the competition," Ames told reporters today, via Access Hollywood. "We are not still dating, but we enjoyed every moment we had together."
On last night's episode, Jackie was eliminated following a group vote, and Ames didn't want to stay in the house without her, so he gallantly chased after her limo, saying goodbye to his fellow competitors and the dough for a shot at love.
But when the cameras stopped rolling, Ames and Jackie only dated for "a couple of weeks," before he dumped her.
"I personally was definitely shocked that it ended as it did," Jackie said on the conference call. "I was certainly not expecting that. I thought this was something that had potential forever, but you know, with every relationship, nothing is maybe exactly perfect."
She added: "But it's a hard pill to swallow when you find love, especially on a show like that where it's so unusual, and it leaves you. It's hard."