NEWS
Amy Adams Admits She Was "Very Intimidated" By Co-Star Kristen Stewart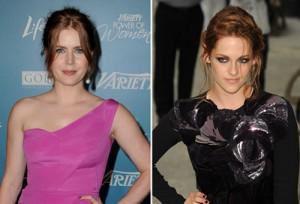 Amy Adams may be an Oscar-nominated actress, but that doesn't mean she is fearless when it comes to collaborating with co-stars. The new mom recently admitted to being intimidated by one young hot Hollywood star in particular — her On the Road co-star Kristen Stewart.
"I guess I'm getting to the point in my life where I'm suspicious of teenagers and I'm intimidated a little bit," Amy, 36, told E!'s Marc Malkin — at Variety's Power of Women luncheon at the Beverly Hills Hotel — of Kristen, 20. "She's not a teenager but she's close enough and I was very intimidated."
Article continues below advertisement
Amy and Kristen are just coming off a four-day filming jaunt in New Orleans for On the Road.
"I got requests for autographs, and I didn't ask for a single one," the A-list actress said of her time in New Orleans with Kristen.
Amy said she is a fan of Stephenie Meyer's Twilight Saga and very familiar with the pandemonium surrounding all things vampire.
"I told Kristen I read the books and she was like, 'You've read the books?' " she said. "She couldn't compute it, but you have to imagine I was playing this sort of bedraggled drug addict so I'm sure she was like, 'That doesn't seem like the audience.' But she was incredibly gracious and lovely."
Amy and her and fiancé Darren Le Gallo recently welcomed their first child together, daughter Aviana, on May 15.
"I don't think she recognized me when I was leaving the house," the doting new mom said of her glamorous transformation at yesterday's luncheon. "I'm so done up and she's used to seeing me in sweats."
Amy's next big screen role is opposite Mark Wahlberg in The Fighter hitting theaters this December!