NEWS
Amy Adams Tells OK! She Hasn't Picked a Baby Name Yet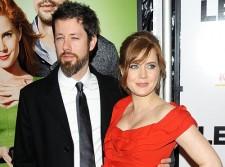 As the time draws closer and closer for Oscar-nominated actress Amy Adams to give birth to her first child, the Leap Year star confesses to OK! that she's holding out until the last minute to make one very important decision — the baby's name.
"I don't know yet! I really don't know yet," Amy revealed to OK! at the New York premiere of Leap Year on Wednesday night. "I'm gonna have to really meet the person before I know the name. I tend to be attracted to more traditional names, but who knows?"
Article continues below advertisement
Amy, who also said that "a lot of sleep" is currently the secret to her happiness, explained to OK! that her fiancé Darren Le Gallo has stepped up to the plate when it comes to spoiling her during the pregnancy. "He's doing everything he can that's humanly possible," she said.
As for the delicate balancing act of being a celebrity mom, Amy humbly confessed, "I think I'm just going to try to take it one day at a time. I think that's probably going to come first and foremost, of course, but hopefully Ill be able to have a career as well."
Amy, who has continued to look radiant throughout her pregnancy, admitted there is a certain aura surrounding moms-to-be. "I feel really happy, and maybe that's what comes across in pregnant women," she explained. "I'm just so happy. You lose all that body image stuff, and surrender."
If only it were that simple for everyone!