NEWS
Amy Winehouse in Hospital for Breast Implant Issues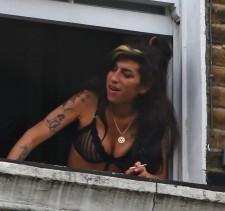 Singer Amy Winehouse was taken to the hospital on Thursday night in London after having extreme pain from her breast implants in her chest.
"Amy was in agony and became convinced it was something to do with her breasts," a friend revealed to the Sun, "She thought she would leave it for a while but the pain got worse."
AMY WINEHOUSE PICKS OVER PRODUCE IN PINK
According to Radar Online, Amy has been admitted to the hospital and is waiting to hear if she needs to have her 32D implants taken out completely to avoid further complications.
Article continues below advertisement
"She went into the clinic on Thursday and they kept her under observation. She is waiting for a decision on whether the implants have to come out or not," the source revealed.
NEWS FROM ACROSS THE POND: AMY WINEHOUSE IS GOING BACK TO THE CARIBBEAN
Luckily, Amy is reportedly doing fine, but still doesn't want to have to part with her breasts.
"Amy loves her curves and would hate to have to have them taken out. She is still her bubbly self but she is worried."
Amy had breast enhancement surgery in October of 2009 and has already been treated once in November for complications.