NEWS
Amy Winehouse Hospitalized — Again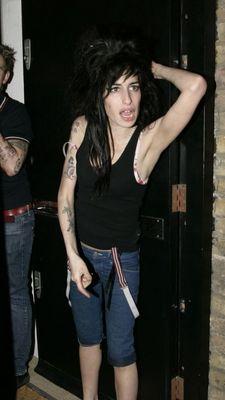 Amy Winehouse was hospitalized again last night, her spokesman confirmed.
At first, the rep would not elaborate on the details surrounding the hospitalization, her second in two months.
However, they later claimed that the reason for the troubled singer's visit to University North Hospital in London was a negative reaction to an undisclosed medication.
In a statement, the Grammy winner's people said that doctors had advised that she should stay in overnight for observation.
Article continues below advertisement
The singer was released this morning, leaving through a private entrace to avoid paparazzi.
"Amy is at home now after leaving with her father and manager," her rep said today. "She is having a rest."
The 24-year old star's erratic behavior has been increasing in recent weeks. Over the weekend, the Grammy Award winning singer went on a rampage, running through the streets of her neighborhood, soaking fans outside her apartment with a high pressure hose and finally exploding into a rage, punching a metal grille fence.
This was the first weekend for Amy since learning that her husband, Blake Fielder-Civil, was sentenced to 27 months in jail.
Let's hope Amy gets the help she needs!