NEWS
Amy Winehouse Wins Big at Grammys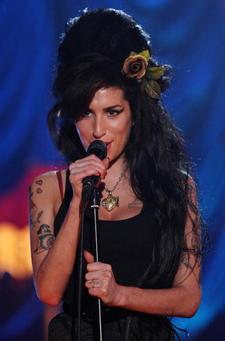 British singer Amy Winehouse might have been in London for Sunday night's Grammys, but that didn't have any effect on her winning some of the night's biggest prizes, as she won in several categories, including Record of the Year.
The 24-year-old singer was initially denied a visa to enter the U.S. because of her admitted use of narcotics, though that ban was later lifted, clearing the way for Amy to travel to L.A. for the Grammys. However, she ultimately decided to perform live via satellite from London.
Article continues below advertisement
In all, Amy won five of the six awards for which she was nominated: Record of the Year, Song of the Year, Best New Artist, Best Female Pop Performance, Best Pop Vocal Album. Her only loss came in the night's biggest category — and biggest surprise — Album of the Year, which saw jazz legend Herbie Hancock become the first jazz artist to take home this award in 43 years.
Winehouse accepted the award via satellite and thanked her parents and her husband Blake Fielder-Civil, who is currently in a British jail for allegedly interfering in a police investigation into an assault.
While no other artist owned this year's awards so much as Amy, fan faves like Carrie Underwood, Rihanna and Kanye West all received honors. for the list of the night's big winners.