NEWS
Amy Winehouse's Dad Sends Final Farewell at Funeral: "Goodnight, My Angel, Sleep Tight"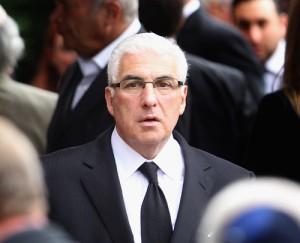 Amy Winehouse's parents Mitch and Janis Winehouse as well as her brother Alex Winehouse continued their mourning process at their loved one's funeral today in London. Her dad Mitch read a touching eulogy to the approximate 150 guests who attended Amy's funeral, that was said to be touching and humorous at the same time.
Mitch ended his eulogy with: "Goodnight, my angel, sleep tight. Mummy and Daddy love you ever so much."
Article continues below advertisement
Amy had a very close relationship with her grandmother, and had her name tattooed on her arm to show her affection.
Amy's cause of death has vet to be determined and initial autopsy results were deemed inconclusive. Police revealed that nothing suspicious was found in Amy's London home that would suggest a drug or alcohol overdose.