NEWS
Amy Winehouse's Last Boyfriend Speaks Out as She's Laid to Rest: "I Have Lost My Darling"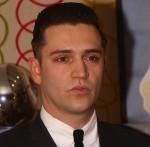 Amy Winehouse's funeral is set for today in a private ceremony for family and friends and among the mourners will be her last boyfriend, Reg Traviss. The movie director expressed his pain as well as his love for his darling.
OK! GALLERY: TAKE A LOOK BACK AT AMY WINEHOUSE'S MUSICAL CAREER IN PHOTOS
Reg told The Sun (via RadarOnline) that "the last three days have been hell." The emotions must be overwhelming as he added, "I can't describe what I am going through and I want to thank so much all of the people who have paid their respects and who are mourning the loss of Amy, such a beautiful, brilliant person and my dear love."
Article continues below advertisement
OK! NEWS: AMY WINEHOUSE'S FUNERAL TO BE HELD TUESDAY AND BE KEPT PRIVATE
A dear love that apparently was into exercising on an every day and practicing yoga, too, according to Reg who dated Amy the past 18 months and managed to keep their relationship out of the spotlight. An insider told RadarOnline, "Reg has been dignified throughout his relationship with Amy. The family love him dearly. He's a good guy."
Plus, he was focused on getting her back into a healthy lifestyle. "What happened in their life together remained private because he was determined to help get her back on her feet properly. He wasn't interested in the limelight -- unlike a lot of her exes."
OK! NEWS: KELLY OSBOURNE & MORE VOICE THEIR CONDOLENCES OVER AMY WINEHOUSE'S DEATH ON TWITTER
Although he sounded like a positive influence on Amy and tried to keep her away from the demons that haunted her, when he wasn't around, that was a whole other story. The source added when he "was away working, the parasites always crept back in and dragged her into the gutter."
Although autopsy results were determined inconclusive yesterday, toxology reports won't be back for another two to four weeks.