NEWS
Ana Ortiz Gets Top Notch Baby Advice!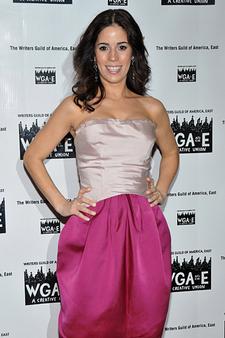 The set of Ugly Betty is no stranger to mommies-to-be, which is a blessing for star Ana Ortiz who's reaping the benefits of Rebecca Romijn's experience.
"Rebecca has this favorite pillow that she told me about," Ana dished to OK! at the 61st Annual Writers' Guild Awards on Feb. 7 in NYC. "And also coconut water. Rebecca was like, coconut water, which is bizarre. I didn't know it had natural electrolytes in it. It's really good. She swears by that."
Article continues below advertisement
Another thing the cast and crew of the show are already used to is working with pregnancies, which in Ana's case, means doing a little creative costuming.
"My character wears such hoochie, cha-cha clothes, so it's going to be interesting to see that sort of adjustment. They're going to do more cleavage and more legs," she tells OK!.
And when costumes don't quite cut it, conveniently placed props –or actors! – can do the trick.
"Yesterday on set I actually did have to hide behind America Ferrera at one point," Ana reveals "But luckily, my character works in a salon so I can kind of stand behind the big Queen's hair and tease it up really high."
The craft services table better make sure to have plenty of sweet treats around, however, or Ana might have to take matters into her own hands when it comes to her cravings.
"For me, I've always been a savory person but now I'm just a total sweet tooth," she adds. "If I see tiramisu, like I will knock you out of the way to get to it."
Since they're hiding it on the show, I'm trying to maintain some dignity about it," she adds of eating anything she wants. "But it is fun. You do sort of have an excuse."
Reporting by Laura Lane