NEWS
Ana Ortiz Sequins it Up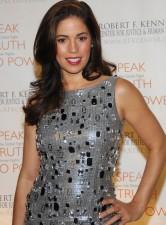 Ugly Betty star Ana Ortiz is getting ready to bring sexy back this New Year a she celebrates with hubby Noah and six-month-old daughter Paloma.
"I like a little bit of bling, I like fitted, I love going backless a lot," the actress, 38, tells me. "I think a woman's back always looks good. For me, anyway, I always think that's an attractive part of a woman – shoulders and back. It's an easy way to be sexy, but not overt."
Article continues below advertisement
One thing she can't get enough of is sequins.
"I love the sequin look," she tells me. "There's this Phillip Lim navy sequined dress that is torturing me at the very, very moment. He has this gorgeous navy blue sequined dress that I was this pinches fingers close to buying. I would love to wear it, but it's one of those things where once you've worn it, do you get to keep it? Is it something you can do again and again? I don't know yet. I'm debating. These are the things that go on in my head. Deep, deep thoughts."
Dressing down a spangly piece is difficult but doable, she says.
"I say minimalist jewelry, tone down the makeup … it depends on the color of the sequins. I might do it with a simple red lip, hair down and then really everything, just keep it simple, simple, simple. Also, what's nice with a sequin is a tuxedo jacket, like the boyfriend jacket, to tone it down and pull it together, I think.
She adds, "Also: these pumps go with everything. They're Yves St. Laurent. Forget it. shrieks Forget it!"