NEWS
And the 2012 SAG Award Winners Are...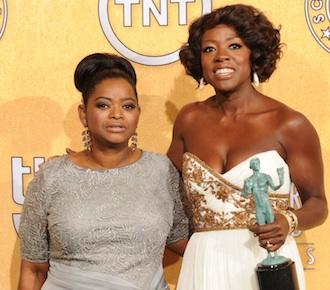 Last night at the Screen Actors Guild Awards (better known as the SAGs), the joint was really jumping! The Shrine Auditorium and Exposition Hall in L.A. held one of the industry's coveted awards ceremonies as the winners are voted upon by SAG members.
OK! GALLERY: GEORGE CLOONEY CELEBRATES THE DESCENDANTS AT THE DIRECTORS GUILD OF AMERICA AWARDS Laughs were certainly in full effect as Bridesmaids stars Kristen Wiig, Melissa McCarthy and Maya Rudolph pretty much killed with their drinking comedy sketch at the podium involving Martin Scorcese! Apparently, any time Scorcese's name was announced they mentioned it was a nod to drink. So, it's no surprise when Steve Buscemi picked up his award moments later and brought his wine glass to the podium, Tina Fey promptly chugged it when he thanked — you guessed it — Martin Scorcese.
Article continues below advertisement
OK! NEWS: ANGELINA JOLIE TALKS MOTHERHOOD AT THE SAG AWARDS Among other highlights, Mary Tyler Moore picked up the Lifetime Achievement Award and The Help won three big awards, including outstanding cast in a motion picture and then the cast did an impromptu group hug as they scurried off the stage. Jean Dujardin edged out George Clooney for Outstanding Male Actor in a Leading Role and the star of the silent film, The Artist, seemed um, how shall we put this? A little speechless. Alas, without further ado, here's the full list of winners: Outstanding Cast in a Motion PictureThe cast of The Help Outstanding Female Actor in a Leading RoleViola Davis for The Help Outstanding Male Actor in a Leading RoleJean Dujardin for The Artist Outstanding Female Actor in a Supporting RoleOctavia Spencer for The Help Outstanding Male Actor in a Supporting RoleChristopher Plummer for Beginners Outstanding Ensemble in a Drama SeriesThe cast of Boardwalk Empire Outstanding Male Actor in a Drama SeriesSteve Buscemi for Boardwalk Empire Outstanding Female Actor in a Drama SeriesJessica Lange for American Horror Story Screen Actors Guild Lifetime Achievement AwardMary Tyler Moore Outstanding Male Actor in a TV Movie or Mini-SeriesPaul Giamatti for Too Big to Fail Outstanding Female Actor in a TV Movie or Mini-SeriesKate Winslet for Mildred Pierce Outstanding Ensemble in a Comedy SeriesThe cast of Modern Family Outstanding Female Actor in a Comedy SeriesBetty White for Hot in Cleveland Outstanding Male Actor in a Comedy SeriesAlec Baldwin for 30 Rock