NEWS
And Then There Were 16...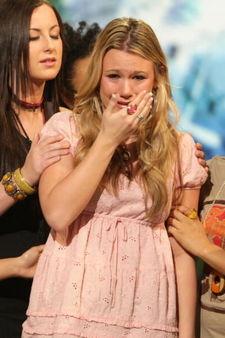 Though there were no huge shocks following Thursday night's American Idol results show, which saw the reality TV dreams dashed for two more male and two more female contestants, there was no shortage of tears to be found on the hit show's stage.
First up to face hatchet-man Ryan Seacrest was 28-year-old Jason Yeager from Grand Prairie, Texas. Havin failed to wow the judges with either his first semifinal performance of "Moon River" or this week's ill-advised choice of the Doobie Brothers' "Long Train Running," it was only a matter of time before the frosty-tipped singer would come up short. And as Simon succinctly put it in his parting comments to Jason, "You're not a bad singer," but "you just don't stand out."
Article continues below advertisement
Next up on the chopping block was perhaps the night's only semi-surprise, as Idol said goodbye to Alexandrea Lushington, who took a lot of flack on Wednesday for her decision to sing lite-FM staple "If You Leave Me Now" by Chicago. And while Randy reiterated that sentiment by saying, "you just picked the wrong song," Paula was characteristically upbeat, telling the 16-year-old, "this is just the beginning."
Rather than go back to kicking out the boys right away, the third trip to the Idol slaughterhouse was also reserved for one of the show's female songbirds. And though Kady Malloy and Alaina Whitaker looked almost like twins standing next to each other while awaiting America's verdict, it would be Alaina, the 17-year-old from Oklahoma, who would end her Idol run after only two weeks. And as Alaina broke down in tears on live TV, the remaining contestants gathered around to support her while she sang Olivia Newton-John's "Hopelessly Devoted to You."
Article continues below advertisement
With the remaining eight girls breathing a sigh of relief, it was time for the men to sweat it out one more time. This week it was former boy-bander (and reported one-time beau of Britney Spears) Robbie Carrico who felt the agony of the Idol axe. In commenting on this particular eviction, Simon said, "The public saw what we saw... It just never felt real." Kind of like Robbie's fake long, luscious locks?
Only one more week of semifinals left before the real fun begins and the final 12 duke it out on live TV. Who do you think will make it and who will get left behind?