NEWS
Anderson Cooper Dissolves Into Giggles While Discussing Dyngus Day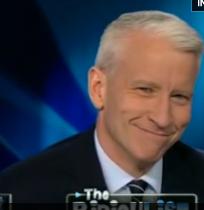 Hey, it happens. But why does it always happen to Anderson Cooper?
The host of CNN's Anderson Cooper 360° lost his composure Tuesday while covering a story about Dyngus Day, a Polish-American celebration of the end of Lent.
OK! GALLERY: KELLY RIPA AND ANDERSON COOPER ATTEND SCREENING OF BULLY
"You could have gotten your Dyngus on in Indiana or Ohio, but if you really want the most bang for your Dyngus buck, you gotta shuffle off to Buffalo N.Y.," Anderson said before the report cut to some footage from Buffalo's Dyngus celebrations.
Article continues below advertisement
Anderson cracked up at this line from the narrator's script: "The quirkly little ritual includes boys sprinkling girls they fancy with water, and the girls striking back with a tap from a pussy willow branch."
OK! NEWS: TWITTER WAR! MIA CLAIMS ANDERSON COOPER "CALLED ME A TERRORIST!"
After trying to walk off the set, Anderson said, "It's really so stupid," and continued to giggle in full view of the camera lens. "Just gotta let it out," he said.
Anderson also lost it last August, when he reported on French actor Gerard Depardieu urinating in the cabin of a plane.
Hey, it's funny. Watch the clip here.