NEWS
Anderson Cooper Explains His Haiti Heroism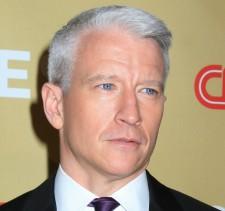 Anderson Cooper fans had another reason to love the silver fox when he saved a bloodied and confused young boy from a dangerous crowd of looters yesterday.
The CNN host describes on his CNN blog the scene, in which a store was being looted, the police were firing their guns in the air and young men began fighting each other for access to the spoils.
"As things got really out of control, I saw a looter on the roof of the store they'd broken into throw what I think was part of a concrete block into the crowd. It hit a small boy in the head," he writes.
Article continues below advertisement
"I saw him collapse. More chunks of concrete were being thrown at the looters on the roof. The injured boy couldn't get up. He'd try and then collapse again. Blood was pouring from his head.
"He was conscious but had no control over his body. I was afraid someone on the roof would see him lying there and throw another cinder block piece onto him. I was afraid he'd get killed. No one seemed to be helping him."
Anderson, 42, made the snap decision to try and get the boy to safety. "I ran to where he was struggling, and picked him up off the ground. I brought him to a spot about a hundred feet away. I could feel his warm blood on my arms.
"I stood him up, but he was clearly unable to walk. He wiped his bloody face, and I tried to reassure him. He had no idea where he was, and he clearly couldn't walk, so I picked him up again and handed him over to someone behind that makeshift barricade.
"Tony, an American businessman, gave the boy a wet towel. He was then taken away by someone else. We don't know what happened to him."
The boy then disappeared in the chaos that's engulfing the Caribbean island. Anderson ends his blog, "I hope he's ok."