NEWS
Anderson Cooper on Giggle Attack: 'I Giggle Like a 13-Year-Old Girl Meeting Justin Bieber'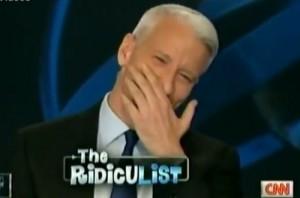 Anderson Cooper has addressed the giggle attack he had on the air last week, while discussing Gérard Depardieu's peeing on a plane incident, on his show Anderson Cooper 360°.
When Anderson was attempting to explain why Gérard has been added to his "Ridiculist," he had a laughing fit and couldn't contain it.
In an interview with Entertainment Weekly the silver fox opened up about the attack.
Article continues below advertisement
"I don't know what happened with the giggling. I mean, I've always giggled like a 13 year-old girl at a Justin Bieber meet and greet. There's nothing I can do about it, but I've never not been able to stop."
"It could be worse," he added. "I could have a viral video in which I throw up on a guest or drunkenly eat a hamburger on a bathroom floor. Not that I've ever done either of those things. Not yet at least."
If you haven't seen it already, watch Anderson's giggle fest below!