NEWS
Anderson Cooper Slams "Gay" Line in Vince Vaughn's New Movie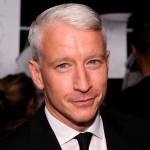 Anderson Cooper appeared on Ellen this week to discuss bullying and he singled out Vince Vaughn's new movie for using a gay slur.
In trailer for Vince's movie, The Dilemma, the actor's character says the line, "electric cars are gay", using the word "gay" to mean something bad.
OK! NEWS: ANDERSON COOPER LANDS DAYTIME TALK SHOW
"I was sitting in a movie theater over the weekend and there was a preview of a movie," Anderson told Ellen DeGeneres without naming Vince or the movie.
Article continues below advertisement
"In it, the actor said, 'that's so gay,' and I was shocked that not only that they put it in the movie, but that they put that in the preview, they thought that it was okay to put that in a preview for the movie to get people to go and see it," the CNN anchor said, reports The Huffington Post.
OK! NEWS: STARS REACT AND SPEAK OUT AGAINST TEEN BULLYING
"I just find those words, those terms, we've got to do something to make those words unacceptable cause those words are hurting kids. Someone else I talked to recently said that the words people use and the things people say about other kids online, it enters into their internal dialogue.
"And when you're a kid, it can change the way you see yourself and the way you think about yourself, and the worth that you give to yourself. I think we need to really focus on what language we're using and how we're treating these kids," he said.