NEWS
Andy Cohen Dishes on Real Housewives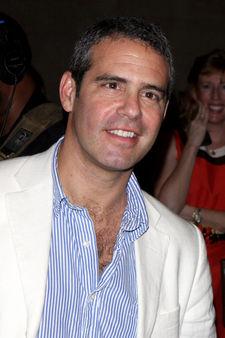 Bravo's The Real Housewives of New Jersey wrapped up this week with an explosive two-part reunion (a "lost footage" episode will air next week) filled with shocking confessions, mysterious allegations, and an ostracized housewife. All the drama even had host Andy Cohen's head spinning. "It was weird!" he says.
During the reunion, Danielle found herself with her foot in her mouth after constantly accusing Dina of trying to ruin her life when Dina's big sis, Caroline, admitted she was the one who uncovered the book highlighting Danielle's criminal past.
Article continues below advertisement
While Dina was very forgiving, gracefully accepting Danielle's apology without throwing a fit, Cohen says he's not sure that her forgiveness was completely genuine.
"My take on the whole situation is that Dina really did not want to deal with rehashing all of the negativity at the reunion," Cohen told OK! in a phone interview Friday afternoon. "And I think that's part of why she was willing just to accept it. And furthermore, I think that she was just scared of further engaging Danielle."
But the skeptical Manzo matriach Caroline became furious at Dina for accepting the apology, referencing an act that Danielle committed against Dina that was "beyond necessary, beyond reasonable and beyond hurtful… You know what you did and you can make believe that you are just so forgiving and, 'Gee, I'm sorry.' I'm not buying it," Caroline shouted through a stream of tears.
The act was never named and did not appear in the series, but Cohen is remaining mum on the issue. "I have a sense of what went down, but I won't say what it is. I know, just out of respect for the women, they don't want it out there," he says.
Article continues below advertisement
After spending some time with all the ladies at the reunion, Cohen was willing to share his take on series standout Danielle, who quickly became New Jersey's most talked-about housewife: "I think she is a fascinating character," he says. "She certainly had a rich life that has gone in many directions."
That rich life includes a rumored sex tape with ex-boyfriend Stephen Zawelski and serving five years of probation in the late '80s for her involvement in an extortion case, which came to light after Caroline (admittedly) discovered the book and started spreading the word around town.
Some of Danielle's answers in the reunion contradicted the court documents (which were uncovered by The Smoking Gun after the reunion was filmed), but her embellished stories (including a confessed "hook up" with Don Johnson) could be damaging her credibility, Cohen says. "Frankly, I don't think any the women believe half or a third or a fifth of what she says."
The reunion ended with an awkward cliffhanger: no one will speak to Danielle, which could complicate things in a (fingers crossed!) second season. But Cohen says it's nothing the Real Housewives franchise hasn't dealt with before. (See: Tamara and Gretchen in Orange County, Kim and NeNe/Lisa in Atlanta, and Kelly and everyone else in NYC.)
Article continues below advertisement
"I think relationships on the Housewives are always complicated, and I think that's what's fascinating," says Cohen, whose late-night chat series, Watch What Happens: Live, premieres July 16 on Bravo. "Is it challenging? Yes. Is it the only city that this is occurring in? No. It's actually really wild."
But while a potential make-up is possible for Danielle and her castmates, don't count on Dina having anything to do with it. "They ain't havin' dinner any time soon!" Cohen says of the rivals: "They ain't having dinner ever!"