NEWS
Andy Cohen Silenced on 'Real Housewives of Beverly Hills' Drama?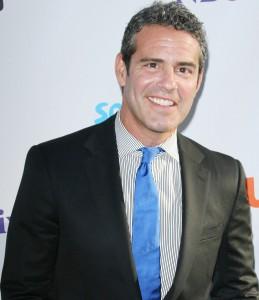 Hours before Andy Cohen embarks on his journey to Brazil to co-host the Miss Universe Pageant, he catches up with me for a little Real Housewives of Beverly Hills dish.
Who are the bigger divas – the Miss Universe contestants or the ladies on The Real Housewives of Beverly Hills?
"Well, I haven't gotten to spend any time with any of the contestants from Miss Universe yet," the host of Real Housewives … Watch What Happens Live tells me during Thursday's conference call. "I'm still in New York. I'm on my way to Brazil tonight, so I have to spend a little time to find out, but I don't know."
Article continues below advertisement
He adds, "The Beverly Hills Housewives aren't divas. Adrienne Maloof is one of the judges, so I'll have to keep my eye on her and the contestants."
As soon as I mention that Taylor Armstrong's lingerie scene was cut, and ask what else has been nixed from the show, my line mysteriously goes silent for a few long minutes. Whoops! Accident or on purpose? You be the judge.
Psst: The official network transcript says he and former Miss USA/current Miss Universe judge Shandi Finnessey (who was also on the call) thought I placed them on hold. (Really?!)
Catch Andy and Adrienne on the Miss Universe Pageant, which airs live from Sao Paolo, Brazil, Monday at 9pm on NBC.