NEWS
Andy Dick Arrested for Sexual Abuse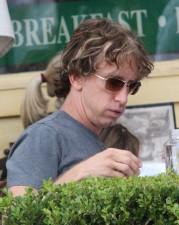 Comedian Andy Dick may not be laughing now as the funny man was arrested this morning for alleged sexual abuse in West Virginia.
"Based upon statements of two victims and independent witness accounts alleging that he had engaged in unwanted and uninvited groping of the two victims' genital areas, Andrew R. Dick of South Pasadena, Calif., was arrested and charged with two counts of Sex Abuse in the First Degree," the Huntington Police Department released a statement on Saturday.
Article continues below advertisement
According to TMZ, Andy was taken in on two counts of sexual abuse and is now at the Western Regional Jail in WV, waiting to be charged later on today.
TMZ reports that the incident occurred when Andy was merely talking to a guy when his behavior suddenly turned extremely inappropriate.
Andy, "Unexpectedly and without invitation grabbed the victim's crotch, repeatedly groping then kissing him," TMZ reports.
Andy, who is already on probation for another sexual assault in 2008, had been in WV for a stand up show at the Funny Bone.