NEWS
Angelina: "I Think About My Own Kids"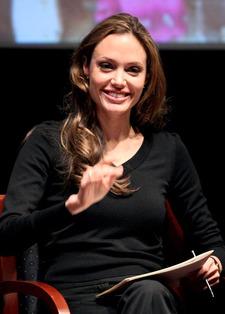 Angelina Jolie's experience as a mother of six has influenced her feelings on the plight of refugee mothers, as the UNHCR Goodwill Ambassador tells Today's Ann Curry about those suffering in Pakistan.
"It was just such a desperate situation and as a mother it was hard for her to say, 'We don't have any food,' " she says of a woman she met there. "And I think about my kids, and the car, and it's too long of a drive and you want to make sure you've got a snack for them. And to think to go days and days and days and have absolutely nothing to give your children, it's got to be the most difficult thing as a mother."
Article continues below advertisement
As the mother she continues to be to many of those in need, Angie wants to make sure her children grow up knowing refugee children as they do other kids.
"I want them to see it as an area where they can go down the street and play football with those kids and get to know them, and as they grow up seem them as those friends they spent time with," she says. "Hopefully I can raise them with a more accurate view of the world than I was raised with, maybe they'll naturally be better people."
So if Angelina knew then what she knows now, how would her life be different?
"I think it would've gotten me through my youth easier, I would've been less self destructive," she admits. "You see people who have suffered things you will never know, and you know lucky you are."
Speaking of lucky, Angelina agrees with partner Brad Pitt, who told Ann this was one of the happiest times in his life.
"I am extememly happy in my life," she says. "My children are healthy and it's one of the most extraordinary times in my life and I'm able to do good things and good work."