NEWS
Angelina Jolie on Acting After Directing: "Brad Thinks I'm Going to Be a Nightmare"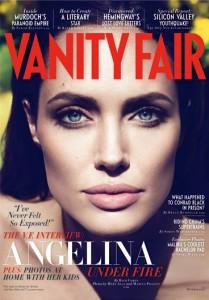 Angelina Jolie glows with ethereal beauty on the cover of the October issue of Vanity Fair, but no matter how gorgeous she is on the outside, she's not immune from being a terror! She reveals in the interview that because she has now had a great experience directing (and writing) In the Land of Blood and Honey, her man Brad Pitt is wary of her future acting gigs.
"Brad thinks I'm going to be a nightmare," she reveals in the Vanity Fair interview. "I had such a good experience he thinks I'm going to be impatient with directors, which I already am. I get impatient with people working on a film that have their head in their hands like it's the most complicated thing in the world."
Article continues below advertisement
They sound just like a normal couple!