NEWS
Angelina Jolie & Brad Pitt Donate to Somalia; Refugees Taught Her to "Be a Better Person, a Better Mother"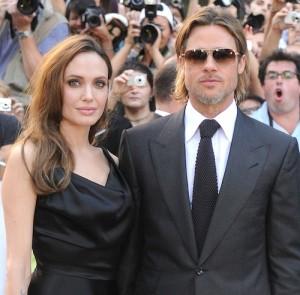 Sure, they make headlines when they do something as normal as taking their kids to the movie theater or as glam when they hit the red carpet but when it comes to their charity efforts, Angelina Jolie and Brad Pitt open up their hearts and consequently, their wallets. They donated $340,000 to the Humanitarian Initiative Just Relief Aid which goes toward healthcare for homeless children in Somalia.
According to E! News, Somalia is experiencing its worst famine in 60 years. As a result, 29,000 children under the age of five have perished. Last Monday Angelina honored a Yemeni aid group and the U.N. Refugee Agency Awards in Switzerland. She's been working with the refugees for the past ten years and got emotional while speaking.
Article continues below advertisement
OK! GALLERY: BRAD PITT TAKES OFF FOR WORK IN A HELICOPTER
"Most of all I'm so grateful—I don't want to cry—to the refugee families that I have the honor and privilege to spend the last years with." She added, "From them I've learned so much. I've learned to be a better person, a better mother. They've inspired me by showing me the unbreakable strength of the human spirit."