NEWS
Angelina Jolie is a Deer in Headlights With Justin Bieber at Golden Globes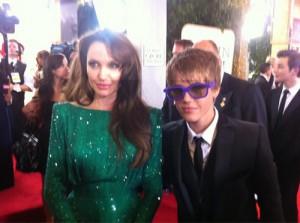 Watch out Brad Pitt — Justin Bieber has his eyes set on your leading lady! Angelina Jolie took time to snap a picture with JB Sunday night on the Golden Globes red carpet, looking a little caught off guard by the flash. The 16-year-old singing sensation, however, appeared super cool as always, rocking his purple 3D glasses in promotion of his debut 3D film, Never Say Never. We wonder how Shiloh and Zahara Jolie-Pitt feel about mom meeting JB?
Article continues below advertisement
No, Justin did not hit the carpet with Selena Gomez last night, but instead bonded with director of Never Say Never, Jon M. Chu.
Jon Tweeted the picture of JB and Angie, writing, "Angelina Jolie with @Justinbieber and 3D #purpleglasses oh yeahhhhh"
He also Tweeted a pic of himself and JB riding to the Golden Globes in style.
Of course Angelina wasn't Justin's only A-list, bombshell run-in last night. The 16-year-old also spent some quality time with the Halle Berry!
"Halle Berry was at my table. #badass" he Tweeted.
Sounds like a successful night of A-list mingling for the young star!
Justin's upcoming 3D film hits theaters nationwide Feb. 11!